Welcome to Panda Bear's Playhouse!
Panda Bear's Playhouse is a storybook site for children. All the stories revolve around the adventures of Ping Pong the panda bear and his friends!!
There are animations in the books to go along with the storyline. Simply move your mouse over any picture outlined in blue!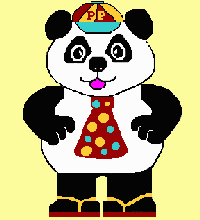 This is Ping Pong the panda bear. Touch his picture!
He and his friend's built the playhouse for the fun of everyone who comes into the Emerald Woods. Like all playhouses, Panda Bear's Playhouse is ever-changing with new stories and new friends. There will be many additions in the near future, so come back and visit often!!!
Click here to read the first story : Ping Pong & the Panda Bear's Playhouse Have Fun!