Panda Bear's Playhouse presents...
Bunnies Don't Type
Part I - The Threat
Move your mouse on blue outlined pictures for more fun!
Tip, tap, tip, tap, tippy, tippy, tap.  One press of the "Enter" button on the keyboard, and the message was on its way to the Playhouse.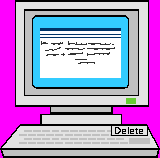 One more push of the button to delete the message, and it was erased from the computer.  The sender sat for a minute and smiled. "This ought to do the trick."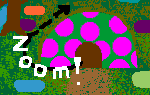 Suddenly, a shadow of someone approaching the computer room caught the intruder's eye.  In a dash, they rushed out the door and headed down the trail. 
Huffing and puffing, the winded troublemaker, settled down into a clump of leaves to rest until the search began.
"Ping Pong, are you still at that computer?" asked Nuber.  "You are gonna get computer buns."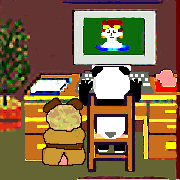 "What's that?"  Ping Pong mumbled.
"That's when you lose feeling in your rear end from sitting at the computer all day long playing computer games," Nuber warned.
Ping Pong wiggled in his chair just to make sure Nuber wasn't right, and then he continued to play his game.
Nuber peered over the panda bear's shoulder to see what he was doing when a message popped up on the screen. Care, The Supreme Goddess of the Entire Internet, chimed out in her mysterious sounding voice, " You have mail, Mister Ping Pong the panda bear!"
Nuber chuckled every time he heard that silly greeting.
"Mr. Ping Pong, aren't you going to check your e-mail?"  Nuber teased.
"In a sec," said the panda, as he finished his game of solitaire.
Ping Pong resisted the urge to start yet another game and clicked on his
message. 
It read as follows:
I have captured Princess Pigeon Feathers for a pet.  If you do not bring 10 bunches of carrots to the giant hole by the largest cypress tree in Polkadilla Villa, I will keep her forever! 
Do not try to find her on your own!
 Signed,
The Bird Catcher of Polkadilla Villa
"What does this mean?" asked Nuber.
Ping Pong explained. "Princess Pigeon Feathers lives in Polkadilla Villa.  I discovered that place on one of my shortcuts.  It's far over the hill from my Gramma's house.  Everyone there seemed so nice. I just can't imagine someone taking Princess Pigeon Feathers!"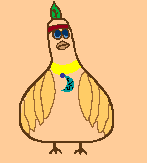 "Maybe it wasn't somebody who lives there!" shuttered Nuber.
"We must go to Polkadilla Villa right away," said Ping Pong.  He hit the print button to make a copy of the message.  When it was finished, he stuffed the note under his sweater.
"I'll get the carrots from Gramma's garden!" said Nuber.
Off they went to save Princess Pigeon Feathers from a caged life of misery.

Copyright © 2001 Carol Valleau All rights reserved