Panda Bear's Playhouse Presents...
Slap Happy and the Mystical Key
Part III - The Magic
Move your mouse over blue outlined pictures for more fun!
The Magic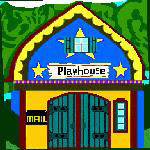 Through the woods they plodded until they came to the clearing. Gramma paused.
"It's wonderful!" she said." It has all the colors that my magic garden had; like a rainbow!" I never gave you children all of these colors in those paint cans!"
"We can thank Mrs. Bunnywinkle for the extra color," said Ping Pong.
Mrs. Bunnywinkle winked at Gramma.
Gramma amusingly said, " It appears that Mrs. Bunnywinkle has been around a long time doing her magic!"
The Queen of Fairies closed her eyes and bowed her head in gratitude.
Nuber and Ping Pong ran to the door of the playhouse. Ping Pong turned the handle.
"The door won't budge!" said Ping Pong.
"Say, there's a keyhole there," squeaked Nuber. "Where'd that come from?"
Ping Pong looked at the key around Slap Happy's neck. "Can I borrow your key?" he asked.
"Sure," said the curious duck. "What're ya up to?"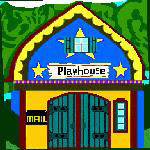 Ping Pong took the key and slipped it into the keyhole. It fit perfectly, but it would not open the door! Then, almost instinctively, Ping Pong whispered, "XOBIAR!" The door creaked open. Mrs. Bunnywinkle seemed pleased.
"Mrs. Bunnywinkle, did you just open that door?" asked Nuber.
"No," said Bunnywinkle. "My magic wasn't needed. The magic was already there from a long time ago!" She winked at Gramma again.
"Magic indeed!" exclaimed Gramma, as the door opened widely.
There, for everyone to see, was a magnificent site: a playroom! Gramma looked back at Mrs. Bunnywinkle.
"Let me see that key," said Nuber. Ping Pong handed it to him, and Nuber rubbed it on his fur as hard as he could.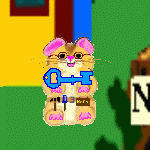 He looked at it very carefully, and he quickly took it down into his tree stump. Nuber polished it up. It was golden yellow! It had been tarnished, and sure enough there were 6 very distinctive letters on it: X-O-B-I-A-R. Nuber was so excited. He scurried out of his tree trunk and toward the playhouse screaming, "This is Gramma's key! This is Gramma's Key!"
They all gathered around as Gramma took it from Nuber's little paws. They couldn't believe their eyes! Gramma sobbed with joy, "It IS my old key!" "What fond memories I have because of this key, because of maybe even you, Mrs. Bunnywinkle!"
Mrs. Bunnywinkle smiled and said, "You and your Mom made the magic." "I might have helped it along a little!"
Slap Happy walked over to the cherry cheeked bear. "You keep the key, Gramma," he offered eagerly.
Gramma grinned at Mrs. Bunnywinkle. She turned toward Slap Happy and said," You keep it and share the magic of the playroom with your new friends." "My mother would've wanted it that way. I'll always have the key in my heart to unlock all of the memories!!!"
Mrs. Bunnywinkle nodded at Gramma with pleasure.
"And remember," said Gramma, as she handed the key back to Slap Happy, "XOBIAR!"
Ping Pong ran over and hugged his Gramma.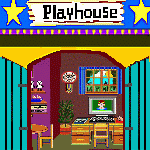 The little bears darted into the playroom. There were a few giggles before the loud thud.
"Mischief! Pure Mischief," said Slap Happy.
"You're not kidding!" said Nuber.
Ping Pong shook his head in disbelief, and Gramma giggled as they all dashed into the playhouse.
The End.
To return to previous page, Click

Previous Page or

Copyright © 1999-2011 Carol Valleau All rights reserved