Welcome to Nuber's Tree Trunk Home and Tour of the Emerald

Woods!
Hi! I am Nuber the Hamster.
I would like to take you on a tour of the Emerald Woods. Follow along the tour by clicking on each sign. When you are done with each stop, you can return to the path by clicking the return to path button. Don't forget to move your mouse over any picture that is outlined in blue to see it in motion.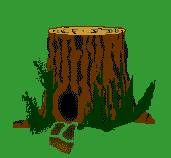 Come along with me now. It'll be fun.