Howdy fellow web surfers!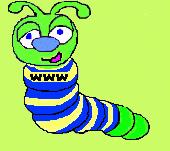 I am Willy the WebWorm, but you can call me WWW for short. Move your mouse over my picture and wait a few seconds. I can wriggle along the ground!
Want to have some more fun? Let me tell you a few things to help you on your way.
You are at Panda Bear's Playhouse. This entire site, has a lot of safe places to roam around.
#1 Move your mouse around the various locations on the playhouse page. You will see text pop up to explain what you can see and do. Choose by clicking, and you are on your way!
Examples:
1) Click the front door to "Enter" the Playhouse.
OR
2) Choose Gramma's/xobiar picture and you will find out what "xobiar" means.
There are alot more things to do, so just explore.
To return to the opening Playhouse or Home page, just remember that when you see it, you can hit the blue Home button at the bottom of a page.
Throughout the site, you may notice that certain pictures are framed in a blue box. Move your mouse over these pictures and you will see them move. Be patient, and you will enjoy your visit to the playhouse even more.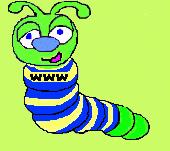 Just touch my picture now to see me worm my way along all over again!
NOTE: All animations are best viewed In Internet Explorer! To download a free copy, go to the bottom of the Home Page and click on the Microsoft Icon for Internet Explorer. Enjoy!
#2 You may always go back to any area from any book or selection by pressing the BACK button in the browser menu bar. If you would like to leave any location there is a menu bar with icons at the bottom of each screen representing the places that you can take a shortcut to. Just scroll down, read the icons and the directions as you lay your mouse over them. Click on your choice and go where you'd like to go.
#3 Look for me around the Playhouse, I will be around to help you!
Most of all, Have fun and adventure! See Ya around! Enjoy the shortcuts.
XOBIAR!
WWW (Willie the WebWorm)
P.S. Remember to choose the HOME icon below, or the back button on the menu bar to go return to the opening page of the Playhouse!

Copyright © 1999-2011 Carol Valleau All rights reserved